Virginia Roots


This website is about my Virginia connections. Especially those from Spotsylvania and Caroline counties, Fredericksburg,and surrounding areas. This site contains materials I've obtained in my research.

Census Excerpts
Funeral Programs
Caroline County Marriage Register Excerpt
Caroline County Colored Marriages 1882-1932
Spotsylvania County Colored Marriages 1898-1952
The Will of Mary Washington
Family Pages
Favorite Links

Please sign my Guest Book
View my Guest Book




Have A Web Page?
Earn Money And Get More Hits!
Click Here.




Join AOL Now! Get 500 Hours FREE!

Play Free Trivia At Uproar - Win Money!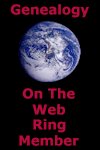 [Previous 5] [Previous]
[Next] [Next 5]
[Random] [Join Ring]
RDCDH07@aol.com